Bamboo Flooring
Bamboo plants can be found in many of the world's tropical regions, particularly in warm, moist, climates such as Japan, the Philippines, India and China. Bamboo is used extensively as a building material. Cheap bamboo flooring is physically similar to hardwood flooring. It is strong and durable, and resistant to insects and moisture. Bamboo floors are known to be eco-friendly. This is because bamboo is a grass and not a wood, and it reproduces itself very quickly. Genuine hardwood flooring can be harder to maintain, and it is not eco-friendly. Manufacturers have to cut down a great many trees for their supply of hardwood.
Flooring made from bamboo is significantly less expensive than traditional hardwood flooring. If you want to budget carefully, but still get the best possible product for your money, consider cheap bamboo flooring. When you choose to install bamboo flooring in your home, you get the same rich, attractive look as genuine hardwood. When comparing bamboo flooring to the cost of hardwood, though, you can acquire bamboo flooring much more cheaply. Bamboo flooring may be cheap wood flooring, but it can also be sustainable, stylish and cosy.
Be advised that if the bamboo flooring is extremely cheap, it may have been made from bamboo stalks that haven't fully matured. In this case, the manufactured bamboo flooring could be prone to scratching and could become easily damaged if it is installed in your home. You may want cheap and economical bamboo flooring, but it should also be of very good quality.
Prices for bamboo flooring can vary greatly. For your own protection, you should deal only with established flooring manufacturers. Find out how long the company has been in business. Try to find one that has been around for many years. Ensure that there is a working telephone number for the company with good customer support, and not just an email address. It is a plus if the company manufactures their flooring in-house, as opposed to being an importer of the flooring. Importers can be in business one day and unreachable the next. By following these tips, you can increase your chances of getting a quality product from a reputable dealer.
Solid Bamboo Flooring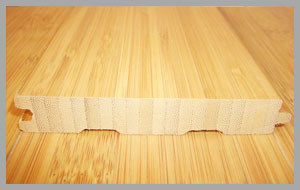 Solid bamboo floors are made entirely of bamboo. Processed solid bamboo flooring is made by slicing bamboo poles into strips. The outer skin, starches and sugars are removed and the bamboo strips are then dried and planed. The strips are glued together to form floorboards. There are many species of bamboo, but "Moso Bamboo" is most commonly used for manufactured flooring and plywood. Some solid bamboo flooring is even harder than flooring made from oak. Solid bamboo flooring comes in two orientations: vertical and horizontal. The vertical orientation turns the bamboo on one side and glues one plank in front of the other, while the horizontal orientation simply turns planks on their flat sides with each one glued next to the other. Afterward, either orientation is glued or nailed to the sub-flooring.
Stand Woven Bamboo Flooring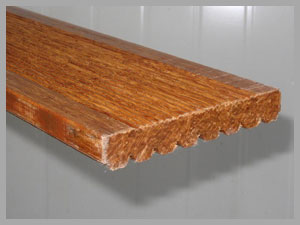 Strand woven bamboo flooring is a very durable form of bamboo flooring. It is produced from natural bamboo and is twice as strong as a normal bamboo floor. Actually, strand woven bamboo flooring planks are stronger than red oak planks. When making strand woven bamboo flooring, the natural bamboo is shredded into strands, which are pressed into floorboards. This manufacturing process relies more on intense pressure than on the use of glue. It is, therefore, considered extremely eco-friendly. When purchasing your strand woven bamboo flooring, you will most likely have three colours to choose from: natural, carbonized and tiger.
It is good to know that do-it-yourselfers can install strand woven bamboo flooring themselves. In addition to the strand bamboo planks, you should have adhesive and a trowel if you are gluing down your strand woven bamboo flooring, or staples, staple gun and felt paper if you are stapling it down. Other necessary tools include a saw, self-leveling compound, tape measure, hammer and rubber mallet. Do get your manufacturer's suggestions on the type of adhesive to use if you choose to glue your strand woven bamboo flooring. Not all adhesives will work for bamboo flooring.
Once you have made the decision to invest in bamboo flooring, you may want to utilize the internet to shop around for the best deals.