Walnut Flooring
Walnut flooring has a very rich, dark brown colour, which contains deep purple and black overtones. The smooth finish of walnut flooring actually improves with age. This dark hardwood is native to North America, especially the eastern portion of the continent. The grain of walnut flooring is primarily straight, but it can boast some complex swirling patterns as well. The color ranges from an off-white in the sapwood to a deeper, darker brown in the heartwood.
Despite its stunning beauty, some walnut flooring may not be suitable for all homes because it is softer than other popular hardwoods. Consider where the walnut flooring will be installed in your home. If it is to be used in high traffic areas with children and pets, it would require a lot of maintenance to keep it looking glossy and new. It may be practical to use area rugs over the wood in the busier portions of your home. The use of a mild satin finish could also help to blend in any scuff marks in your walnut flooring.
Black Walnut Fooring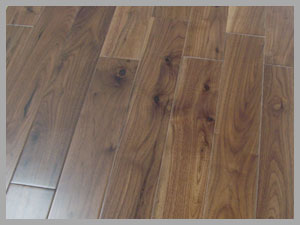 Black walnut flooring has become a popular flooring option for homeowners. Black walnut flooring is a warm chocolate colour and it contains lilac hues. Since black walnut is already so rich in colour, staining the wood flooring won't be necessary.
Black walnut trees grow naturally in the United States. Three-inch black walnut flooring that is grown in the U.S. should be quite affordable. Liquidators and close-out retailers may offer even more attractive prices to the smart shopper. Older and higher grades of black walnut flooring will obviously cost more.
In terms of durability, black walnut rates a little lower than other hardwoods. You will need to protect your black walnut flooring from direct sunlight and heavy spills to keep it looking its very best. Use only slightly moist mops for cleaning the floors, and keep drapes closed if possible to prevent the dark wood from fading.
Brazilian Walnut Fooring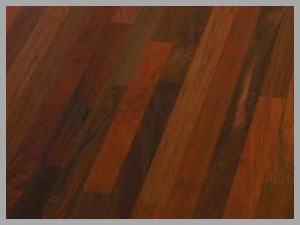 Brazilian walnut flooring can range from a deep, olive brown to a blackish appearance. Its overall look is that of dark chocolate and it is famous for being so durable. This exotic wood is the hardest available and it is resistant to insects and fungi. Brazilian walnut woods are quite dense with a very fine grain. They are native to South America, where it is quite humid. Care must be taken to allow the Brazilian walnut flooring to match temperatures with its new surroundings. One to two weeks should be sufficient for this process. You should only purchase this fine wood flooring from sources who have taken measures to dry it correctly.
Unlike walnut flooring, Brazilian walnut flooring is ideal for the high-traffic areas of your home. It even withstands hand trucks and high heels.This flooring is difficult to nail because it is so hard. For this reason, it would be highly advisable to have a certified professional with experience in exotic woods install your flooring for you. If you attempt to do the job yourself, you could risk damaging your beautiful walnut flooring. Add the installation and labour charges to the overall costs for your walnut flooring. The installation process will require the appropriate amount of walnut hardwood, a nail or cleat gun and 2-inch cleats, black roofing paper for underlayment, and the trim needed to complete the installation project.
Cheap Laminate Walnut Flooring
The aforementioned walnut flooring is certainly not cheap walnut flooring. While walnut flooring can be rather expensive, a quality laminate walnut flooring can be a cheaper alternative. You can still have the look of fine walnut flooring for a mere fraction of the cost. Laminate walnut flooring is created using high technology materials. Laminate walnut flooring resembles the real thing, and you can do the installation yourself. Just select the grain of laminate walnut flooring that appeals to you and assemble your tools for the project.
You also don't have to worry that your laminate walnut flooring will fade in the sun as genuine walnut floors can do. The laminate floors are slip-resistant, and they also resist scratches and dents. Cheap wood flooring like laminate walnut flooring is the way to go if you have a limited budget. Those living in an active household with a lot of foot traffic will find that laminate walnut flooring is easy to clean and maintain.